I have a samsung ht-x30 stereo, have had it for app. 1/2 year now. Great stereo, cost me 2000,- DKK ( 268 EUR ). It was the cheapest i could get, that supported digital TOS link input, so i cud run true 5.1 channel surround out of my HDA Xplosion sound card, and make my home stereo complete. 4 satellites, 1 center, 1 sub. 800 watt rms. Fits nicely with my 32″ samsung M87 LCD TV 😉
Point being, that it stopped working recently. Getting "protection" warning on display, and then it turns off, after 20 min. playing. Turning it on again, it would go out after 5 min. Damn!
So i did the whole "forum" thing, and tried different inputs and so on, moving it, maybe it was overheating, but no…. even an additional fan did nothing…. Updated firmware…. nothing helped…..
And since i couldn't remember where i bought it, and find the order email, or find the money withdrawel on my bank account, i was boned…. And today i wrote samsung support, telling them about my trouble…
But as i was looking at the stereo, i just wanted to fix it myself, just to see if i could. Would be much cooler than having to bother with shipping it out asf… 😀
Here i took off the lid…
And i took of a cover that directs airflow over some components, and would you look at that….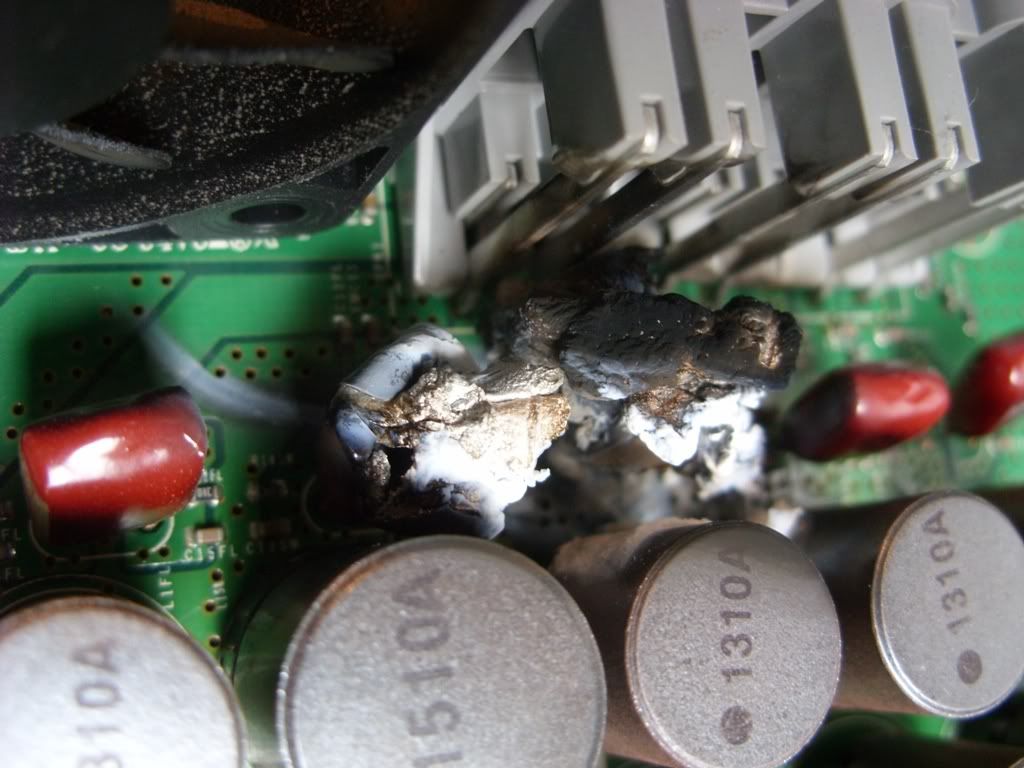 2 capacitors were totally burned out!!!
I quickly went down to my local electronics hardware dealer, and got me 4x 470 nF / 100v capacitors, and some tin and fluss thread….
Broke away the chared remains of the burned down capacitors, and brushed most of the chemical mayhem off the board…
Cleaned out the holes…
Put in the new capacitors…
And put my soldering skillz to the test! I have never done ANY real soldering, just a bit of messing up some stuff. Not even really at school… only very briefly… but i did quite well i think 🙂
Good as new???? Only time would tell….
… turned the thing on… and to my surprise, it didnt actually blow up! Then i put in the optical input, and speaker cords, and it played like it should. And at the seccond im writing this, it has been playing for 1hr and 10 min. 🙂
UPDATE – More tips!:
This guy had the same/simmilar problem, and also tested his caps with a multimeter. As he says, they should show infinite resistance, and he also noticed the nearby components were extremely hot, and so suggested to bend the capacitors further away from these!
http://craftsman-hambs.blogspot.com/2009/09/samsung-home-theater-ht-x40-shut-down.html